The role and influence of EMI filter in industrial production
2022-09-21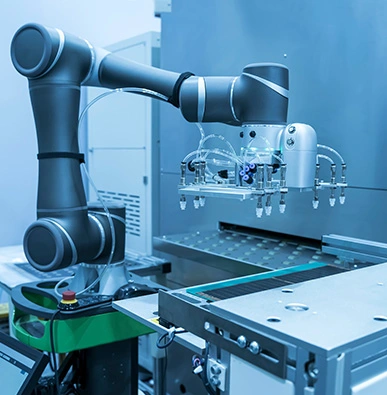 As industrial automation becomes more digital, the sensitivity of equipment to electromagnetic interference (EMI) increases. Filtering and/or shielding these devices from EMI is essential to ensure uninterrupted operation and expected output. This is especially important because the control can fail due to interference, resulting in output failures. This can lead to serious accidents and/or production line outages, resulting in lost productivity.
In an industrial environment, machines operate in close proximity to each other and are therefore susceptible to interference. EMI filters can play a key role in preventing noise propagation and interference.
An environment like a factory is full of potential sources of interference. Now that automation is becoming more common, it is more important than ever to protect machines from unwanted EMI. Common EMI industry sources include:
· Commutation: Turning the power on and off produces strong transients. The higher the load, the higher the transient level, which can cause serious outages. When power switching on and off/switching occurs at high rates (such as a microprocessor chip or commutator for a brush motor), transients are repeatedly generated at very high rates, resulting in high-frequency noise.
· Servo and Variable Frequency drives (VFD) : These are the most common sources of noise in industrial automation environments. These drivers switch frequencies (typically between 8kHz and 20kHz) to generate pulses that are used to regulate the motor. The edges of these pulses are only a few nanoseconds long. These can be transmitted through the entire system, including the ground.
· Switching Mode Power Supplies (SMPS) : SMPS produce higher levels of EMI than linear power supplies. Switching mode power supplies use high-frequency pulses (typically between 40KHz and 200kHz) to generate dc voltages from alternating current. These pulses have sharp edges, resulting in a lot of undesired noise.
· Uninterruptible Power Supply (UPS) : In the event of a power failure, the UPS performs DC to AC conversion. The AC power supplied by the UPS is far from the true sine wave of the supply voltage. It looks more like a square wave with a sharp edge. These edges, combined with the overwhelming noise generated during the DC to AC conversion, may produce significant high-frequency noise at the output.
· Dimming circuits: Dimming switches based on bidirectional thyristors produce periodic spikes synchronized with the line frequency, resulting in high-frequency noise.
· Harmonics: Nonlinear loads performing AC-DC conversion cause high-frequency harmonics at the basic AC frequency. These harmonics can cause distortion of AC waveforms, which is detrimental to the normal operation of power electronic equipment and machines. The odd harmonic is out of phase with the fundamental frequency, which leads to serious system problems. Harmonics are like very low frequency noise.
· Electrostatic discharge (ESD) will cause short voltage spikes or pulses. This is particularly harmful for sensitive devices, such as microprocessor chips and other semiconductors or tiny electronic devices. It's an immunity problem.
Many devices, such as servo drives and rotating machines, consume a lot of energy in a short period of time, which can cause high voltage spikes. These spikes create high levels of EMI that overwhelm nearby devices by interrupting their normal function. These high-frequency outages can be especially damaging when they occur near sensitive equipment. If the voltage generated by EMI is too high for the exposed equipment to handle, they are at risk of EOS.
EOS is the main cause of integrated circuit (IC) component damage. If you use automation in your processes, your day-to-day operational functions depend on your ability to prevent and suppress EMI within your facility. To minimize EOS, you need to understand the origins of EMI at both the facility level and the ground level.
Consider which machines tend to produce the most noise and which parts of each machine cause internal interference. This information can help you formulate the best way to implement EMI suppression devices such as filters.
Efforts to reduce EMI exposure to industrial machines are wise, especially now that wireless local area networks (WLans) are becoming more common in industrial facilities. When building power tools, you want to do more than just filter out externally generated EMI -- you also want to mitigate the noise propagation inside the device to prevent it from generating internal interference.
Consideration of the above factors in the early design phase often leads to more cost-effective options. The following are some design suggestions for reducing and preventing EMI in industrial automation technology:
·EMI Filters: EMI filters not only suppress unwanted transmitted noise, but also help you comply with industrial EMI regulatory standards such as CISPR 11, EN61000-6-3, and EN61000-6-4.
· Shielding: This is a mechanical design technique for placing a grounding shield of magnetic or conductive material around the system. Shielding protects the system from radiated noise.
· Decoupling capacitors: Placing capacitors close to the power pins of the HF IC helps reduce radiated EMI.
· Short return path: Long circular return paths often act as radiating antennas, resulting in EMI. By connecting the device ground directly to the ground plane, you can significantly reduce the interference level.
The main function of EMI filter is to filter out the interference of the high-frequency pulse of the external power grid to the power supply, and also to reduce the electromagnetic interference of the switching power supply itself to the outside world. In fact it is one of the characteristics of inductance and capacitance, can make about frequency of 50 hz alternating current to flow through the filter, but higher than that of more than 50 hz frequency interference noise filter filter, so it has another name, called EMI filter low-pass filter (Mr) on TV, their significance, for low frequency can pass, while the high frequency filter.
Secondary EMI filter circuit
In high-quality power supplies, there are two EMI filtering circuits, one of which is at the power socket, and the other one is on the PCB board of the power supply (there are cases where both EMI filtering circuits are made on the PCB board). These two EMI circuits can well filter out high-frequency clutter and in-phase interference current in the power grid. At the same time, the electromagnetic radiation generated in the power supply is reduced to a minimum, so that the amount of electromagnetic radiation leakage to the power supply will not cause adverse effects on the human body or other equipment. Poor quality power supplies usually omit the first stage EMI filter circuit and even the second stage EMI filter circuit.