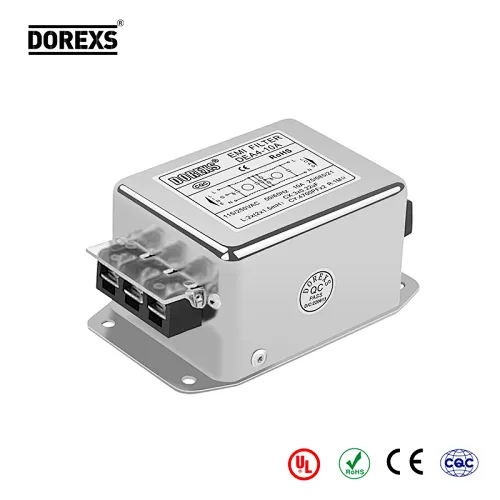 Single Phase AC High Performance EMI Filter 3A-20A
Rated Current:3A-20A

High Performance EMI Filter

Certificate:cUL,CQC,CE,ROHS

Can be customize according to customer requirements.

Support free samples
A terminal block EMI filter is a common electronic circuit component used to reduce electromagnetic interference in a circuit. It usually consists of a terminal block and a filter.
The terminal block is an integrated interface used to connect the power supply and equipment, and common forms include sockets, terminal blocks, etc. It provides convenient electrical connections, allowing power and equipment to be easily connected and disconnected.
The terminal block EMI filter is an important part of the terminal block, and its function is to filter the electromagnetic interference signal in the circuit. Electromagnetic interference refers to electromagnetic waves generated due to the operation of power supplies or other equipment, which may interfere with signal transmission and working stability in circuits. The filter suppresses these interfering signals by using a filter circuit to ensure the normal operation of the circuit.
Common types of terminal block EMI filter are single-phase terminal block EMI filter and three-phase terminal block EMI filter. They have different powers and filtering effects, and the appropriate type can be selected according to specific application requirements. When installing a terminal block filter, you need to ensure that the power supply and equipment are connected correctly, and pay attention to whether the rated power of the filter matches the circuit load.
DEA4 series is a commonly used single-phase AC filter, suitable for 3A-20A circuits. Its main role is to suppress electromagnetic interference (EMI) and harmonics, provide a clean power supply, and protect equipment from electromagnetic interference.
DEA4 series filters adopt a double-pole filter design, which has high filtering efficiency and reliability. It connects the filter with the power supply and equipment by installing a terminal block on the circuit. When installing, first ensure that the power supply is cut off, and then connect the input and output of the filter to the input of the power supply and the input of the target device respectively. During the connection process, the filter should be installed in strict accordance with the specifications and circuit requirements to ensure a stable and reliable connection.
There are many ways to install the terminal block EMI filter of DEA4 series filters, and you can choose screw connection or spring connection to adapt to different installation environments and requirements. It should be noted that during the installation process, it is necessary to ensure that the contact surface of the terminal block is clean, free from rust, and the connection is well tightened to avoid poor contact or loosening.
---
Product Details
(
terminal block EMI filter)
| | | | |
| --- | --- | --- | --- |
| Product Name: | Terminal Block EMI Filter | Temperature Range: | -25℃~85℃ |
| Rated Current: | 3A-20A | Withstand Test Voltage: | 1750VAC |
| Rated Voltage: | 110VAC-250VAC | Fire Resistance: | UL 94V-0 |
| Working Frequency: | 50/60HZ | Certification: | cUL,CE,CQC,ROHS |

Overall Dimension

(±1mm)
(
terminal block EMI filter)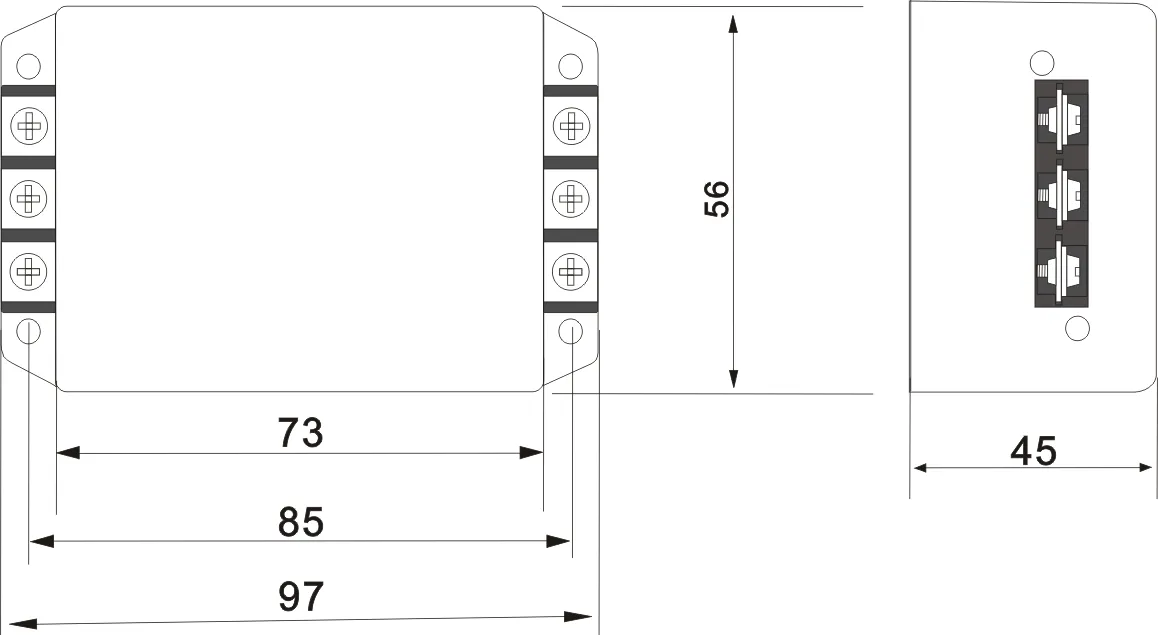 Insertion loss

-(common mode)
(
terminal block EMI filter)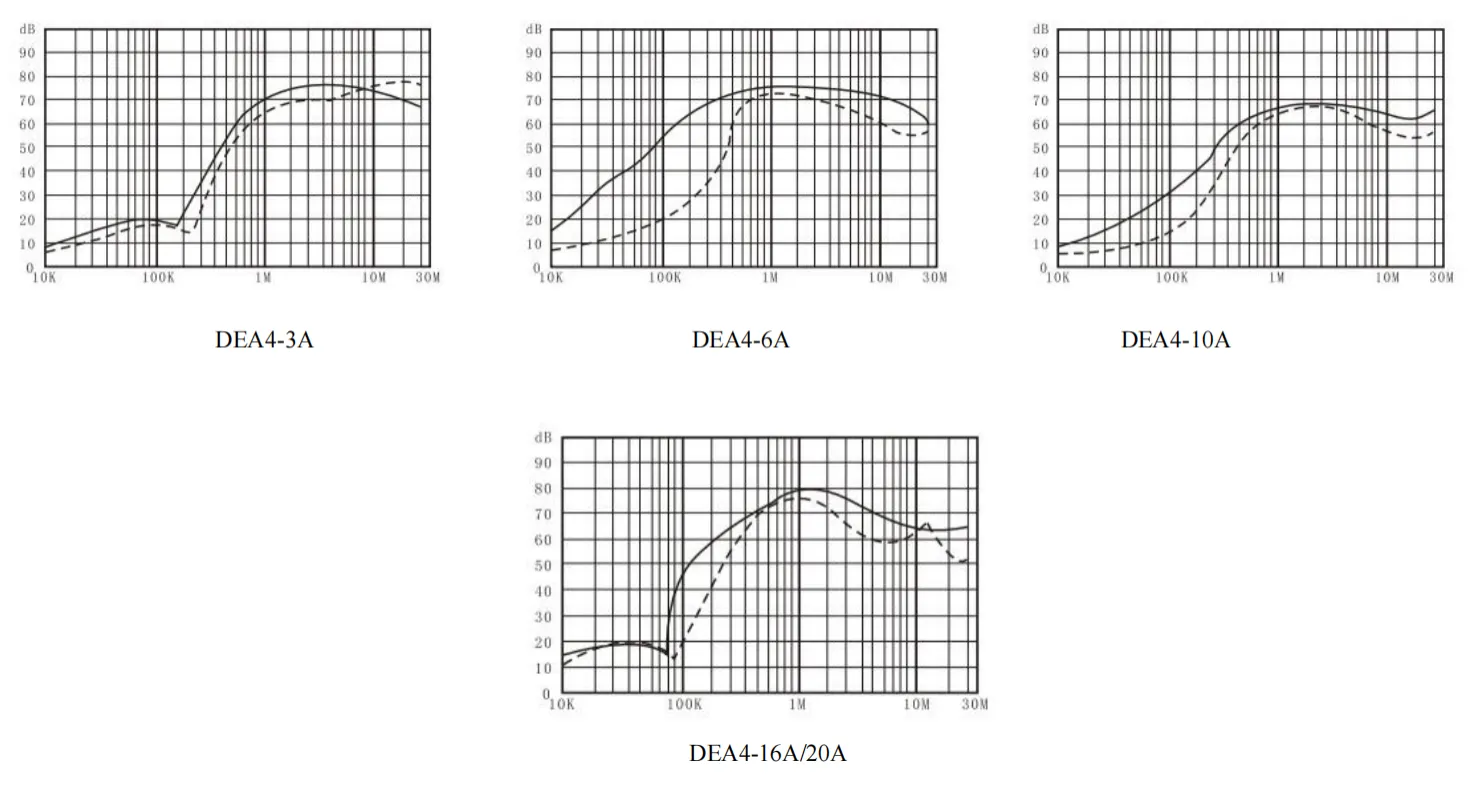 Featured and Benefits
(
terminal block EMI filter)
DEA43 EMI Filter are Designed for Quick and Easy Installation
Adopt Two-Stage Design Method, Better Anti-interference Performance
Three Installation Methods of Power Cord, Insert and Bolt are Available
Chokes with High Permeability Core Material and Excellent Thermal Performance
All EMI Filter Provide Excellent Conduction Attenuation
Application Field
(
terminal block EMI filter)
Electrical appliances, testing equipment
Various disinfection and purification equipment
Autonomous robots and so on
DOREXS

provides a wide variety of

EMI/EMC filter

options, standardized and customized electromagnetic interference solutions.
Provide customers with comprehensive engineering technical support.