Source and Classification of EMI Filters
author: DOREXS
2023-03-27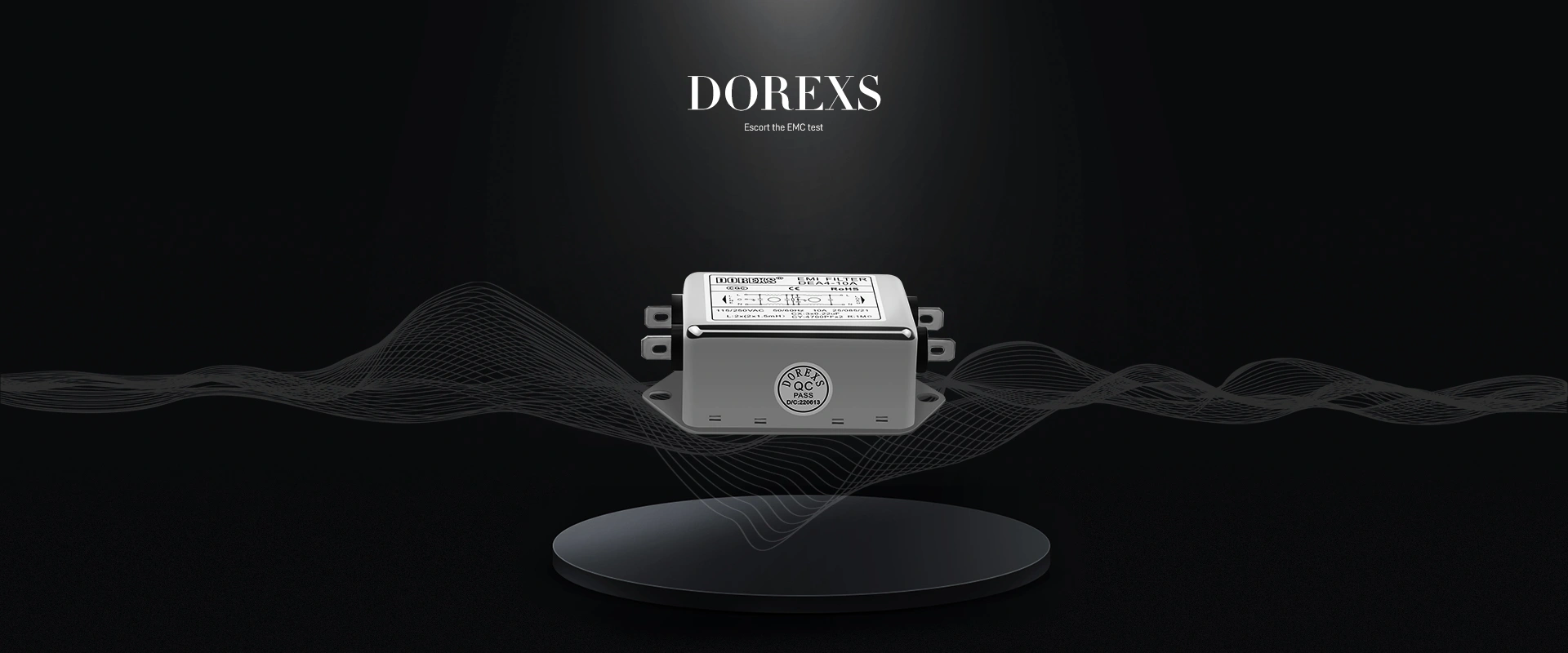 Today's electronic devices are used in a wide range of applications, ranging from personal end users to industrial applications. However, these electronic devices themselves also generate electromagnetic interference (EMI), which can interfere with surrounding equipment, systems, or the human body.  EMI can also come from electromagnetic radiation from other equipment or the environment, and if not properly managed, it can cause major losses and affect equipment stability and work efficiency. Therefore, an effective EMI filter is one of the core components to ensure the normal operation of electronic systems.
An EMI filter is a filter used to suppress electromagnetic interference. It can limit the ability of the circuit to transmit noise, and reduce the interference between circuits by suppressing the EMI required by the circuit.  EMI filters are usually applied in power lines, signal lines and antenna guide lines of electronic equipment to avoid the influence of EMI.
In the design of EMI filters, some components with high attenuation capabilities are often used, such as capacitors, inductors and magnetic beads. For low frequency EMI problems, inductors are useful. Inductors filter out high-frequency traces and are often installed on power and signal lines. For high-frequency EMI problems, capacitors and ferrite beads are still more effective.
EMI filters are roughly divided into two types:
1. Single level EMI filter
Single stage EMI filters are often used for low frequency EMI interference problems. In single-stage filters, inductors are often used to combat low-frequency EMI. This design approach is common since low frequency EMI cannot be filtered out by capacitors.
2. Multi-stage EMI filter
Multistage EMI filters are often used for high frequency EMI interference problems. Ferrite beads and capacitors are very useful components in high frequency EMI filter design. Multistage filters usually use different types of capacitors or inductors, or combine them in parallel or in series.
EMI filters are one of the key components of modern electronic equipment, especially in the design of high-speed digital and analog circuits. Using EMI filters not only protects equipment and systems from electromagnetic interference, but also ensures that equipment and systems perform at their best.
DOREXS EMI industry leader
If you need effective EMI protection, DOREXS offers durable and reliable EMI filters for every application. Our filters are suitable for use in specialized fields such as military and medical, as well as residential and industrial use. For applications requiring a custom solution, our professional team can design EMI filters to meet your specific requirements.
With 15 years of experience in solving electromagnetic interference, DOREXS is a trusted manufacturer of high-quality EMI filters for medical, military and commercial applications. All of our EMI filters are designed to meet industry standards and comply with EMC regulations. Explore our selection of EMI filters or submit a custom quote request to get the perfect EMI filter for your needs. For more information on DOREXS custom and standard EMI filters, please contact us.
Email: eric@dorexs.com
Tel: 19915694506
Whatsapp: +86 19915694506
Website: emcdorexs.com