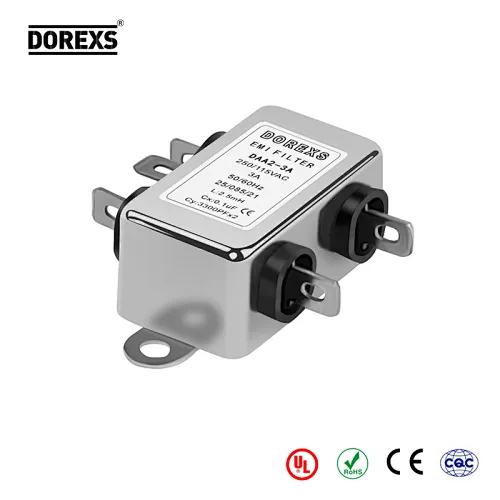 Single phase General purpose 220V AC noise filter for Lighting equipment
Rated Current:1A-10A

Excellent EMC filter for lighting applications

Certificate:cUL,CQC,CE,ROHS

Can be customize according to customer requirements.

Support free samples
Single-phase noise filters are special electronic devices used to suppress noise and interfering signals on power lines. This kind of filter is widely used in various electronic devices, which can effectively eliminate power supply interference, provide clear signal transmission and high-quality power supply. The filter has the following key features:
Plug-in input: The single-phase noise filter adopts a plug-in input design, which is convenient to connect with the power line. This design is not only convenient and fast, but also can effectively reduce the time and labor cost of installation.
General-purposeEMI filter: The single-phase noise filter has a general-purpose EMI (electromagnetic interference) filtering function, which can resist the influence of electromagnetic wave interference on electronic equipment. It can effectively filter high-frequency noise and ensure the normal operation of electronic equipment.
Anti-electromagnetic interference: The single-phase noise filter adopts advanced electromagnetic shielding technology, which can effectively resist electromagnetic wave interference. It can block noise and interference signals on the power line, provide a stable power supply, and protect electronic equipment from electromagnetic interference.
Small size: The single-phase noise filter has a compact design with a small size. It is suitable for places with limited space and can be easily installed in various electronic devices.
Plug-in connection: The single-phase noise filter adopts a plug-in connection, which can be easily connected to the power line. This installation method is simple and fast, without professional installation tools, and users can complete the installation and disassembly by themselves.
Customizable: Single-phase noise filters can be customized according to customer needs. Noise filters of different specifications can meet different current demands, ranging from 1A to 10A. Customers can choose the appropriate filter according to their specific requirements.
Product Details
| | | | |
| --- | --- | --- | --- |
| Product Name: | DAA2 Single-Phase Noise Filter | Temperature Range: | -25℃~85℃ |
| Rated Current: | 1A-10A | Withstand Test Voltage: | 1750VAC |
| Rated Voltage: | 110VAC-250VAC | Fire Resistance: | UL 94V-0 |
| Working Frequency: | 50/60HZ | Certification: | cUL,CE,CQC,ROHS |

 

Insertion loss

-(common mode)

 
Featured and Benefits
Very high differential mode attenuation
Suitable for AC and DC applications
Offering a very high differential and common mode performance in low profile housing
DAA2 EMI noise filters are also available with two common mode choke configuration
Voltage rating according to high voltage LED lighting market
 Application Field
Various disinfection and purification equipment
Autonomous robots and so on
DOREXS

provides a wide variety of

EMI/EMC filter

options, standardized and customized electromagnetic interference solutions.
Provide customers with comprehensive engineering technical support.