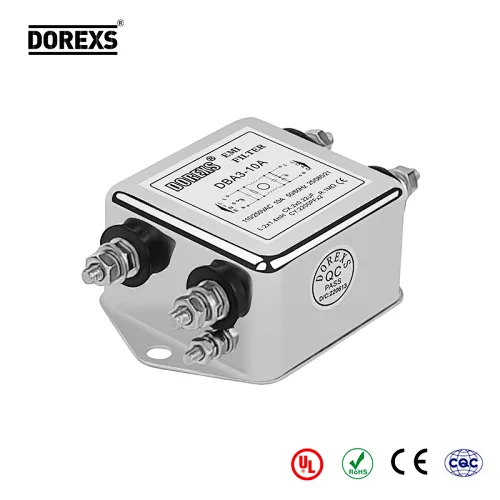 Single phase General Purpose EMI Filter 250V 1A-20A
Rated Current:1A-20A

General Purpose EMI Filter

Certificate:cUL,CQC,CE,ROHS

Can be customize according to customer requirements.

Support free samples
Model DBA3 is a high performance EMI filter for single phase filter applications. It can effectively suppress electromagnetic interference and provide stable power quality. With a rated voltage of 250V, the filter is suitable for various electronic equipment and systems.
The main application scope of EMI filter includes but not limited to the following aspects:
1. Electronic equipment: DBA3

EMI filters

can be used in electronic products such as computers, TVs, and audio equipment to effectively reduce the impact of electromagnetic interference on equipment performance and provide clearer and more stable signal output.
2. Industrial control systems: In industrial environments, electromagnetic interference may negatively affect the proper operation of control systems. DBA3 EMI filters can be used in industrial control systems to provide reliable power filtering to ensure system stability and reliability.
3. Medical equipment: Medical equipment has high requirements on power quality and requires a stable power supply to ensure accurate measurement and treatment. DBA3 filters can be used in medical equipment to provide efficient EMI suppression and ensure the normal operation of the equipment.
4. Communication equipment: In communication equipment, electromagnetic interference may cause problems such as signal distortion and communication interruption. DBA3 filters can be used in communication equipment to provide effective EMI filtering and improve communication quality and reliability.
In summary, model DBA3 is a high performance EMI filter for single phase filter applications with a 250V rated voltage. It has a wide range of applications in electronic equipment, industrial control systems, medical equipment, and communication equipment.
Product Details
| | | | |
| --- | --- | --- | --- |
| Product Name: | DBA3 Single-Phase EMI Filter | Temperature Range: | -25℃~85℃ |
| Rated Current: | 1-20A | Withstand Test Voltage: | 1750VAC |
| Rated Voltage: | 110VAC-250VAC | Fire Resistance: | UL 94V-0 |
| Working Frequency: | 50/60HZ | Certification: | cUL,CE,CQC,ROHS |

Insertion loss

-(common mode)
Featured and Benefits
DBA3 Filters are Designed for Quick and Easy Installation
High Differential and Common Mode Attenuation 
Insert and Bolt Two Installation Methods
Chokes with High Permeability Core Material and Excellent Thermal Performance
All EMI Filters Provide Excellent Conduction Attenuation
 Application Field
Various disinfection and purification equipment
Autonomous robots and so on
DOREXS

provides a wide variety of

EMI/EMC filter

options, standardized and customized electromagnetic interference solutions.
Provide customers with comprehensive engineering technical support.